Hi Guys,
I just discovered this dokos. So what are your main differences compared to Odoo and especially ERPNext?
Thanks.
Hey Ely,
I haven't used Odoo so I cannot compare but here are 3 things I like about dokos:
Very open and customisable
Quite simple and logical (once you get the hang of it)
License is free with every modules included
It uses the same framework as ERPNext so it's very similar to it. as far as I'm aware, the main difference is that it can handle French accounting/legal requirements and you can manage calendar for online booking of resources (room, machines etc.).
If you haven't seen it already, there's a lot of info on the main page : https://dokos.io/en.
Antoine.
Is French accounting requirements based on IFRS?
Hi @Antoine_Maas , thanks for your reply.
By the way we are based in Singapore. My further question are:
Is it possible to generate custom tax report (VAT and Annual) that is compliant with Singapore tax system?
Furthermore, is it possible to enable seamless filing as illustrated below?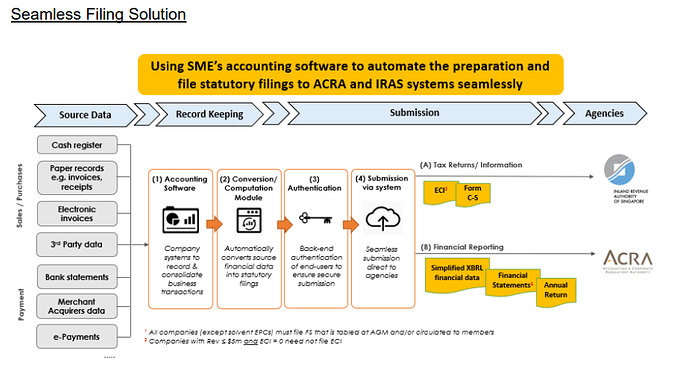 Thank you.
Hi again,
You can go quite far with reporting and customisation but I'm afraid that is beyond my expertise, so can't guarantee it.
Maybe someone here will know.
Cheers,
Antoine.
Hi @ely2727,
Thanks for your interest in Dokos.
Unfortunately Dokos doesn't generate generate compliant tax reports for Singapore yet.
We could build it if you are willing to sponsor it.
Similarly, there is no connection with the Singaporean tax autorities' system, but it is possible to build one on Dokos.
Have a nice day !